Meet your new vet friends
Need vet advice?  | Ask any question about your pet 24/7 – our friendly vets send you a personalised video reply in next to no time.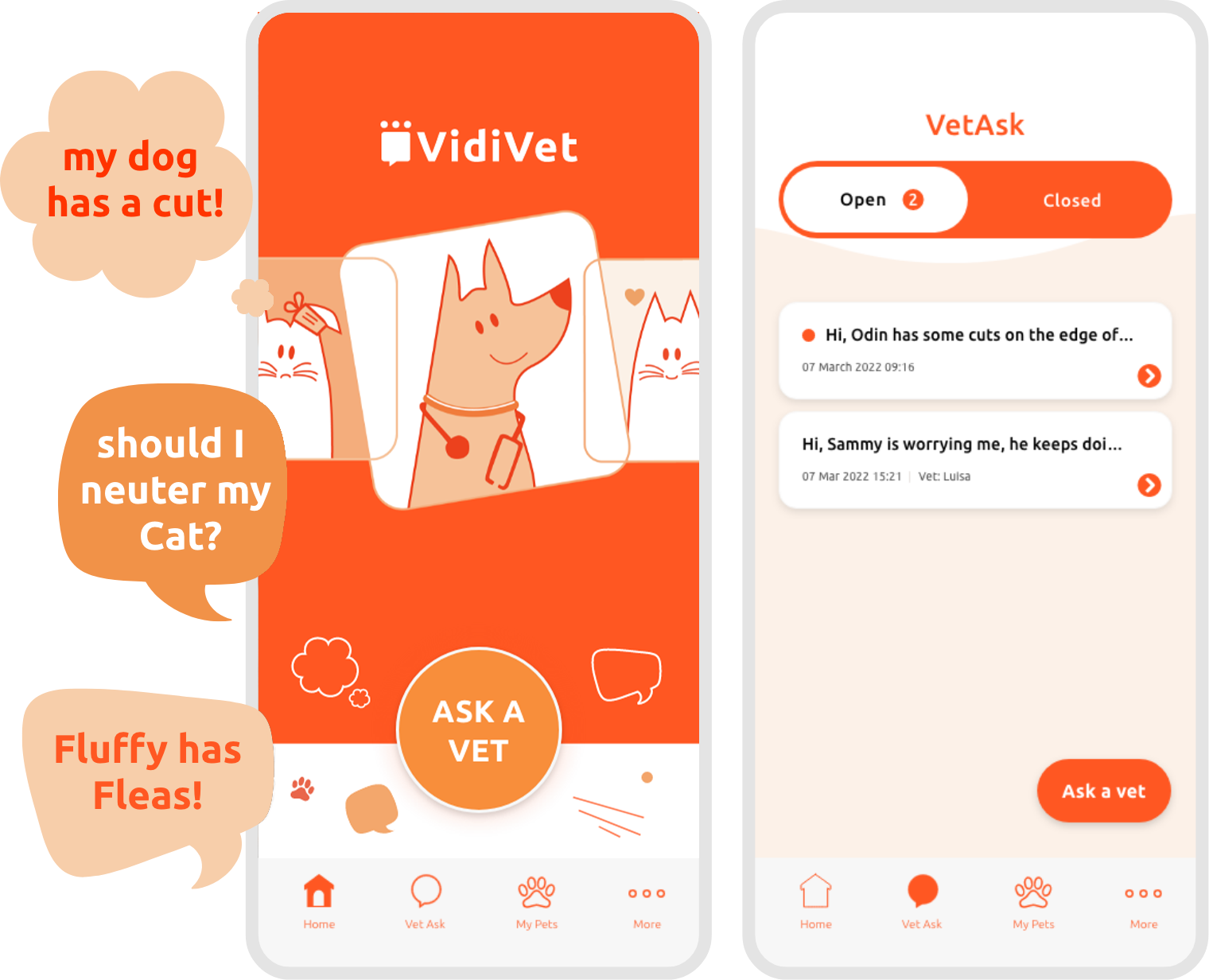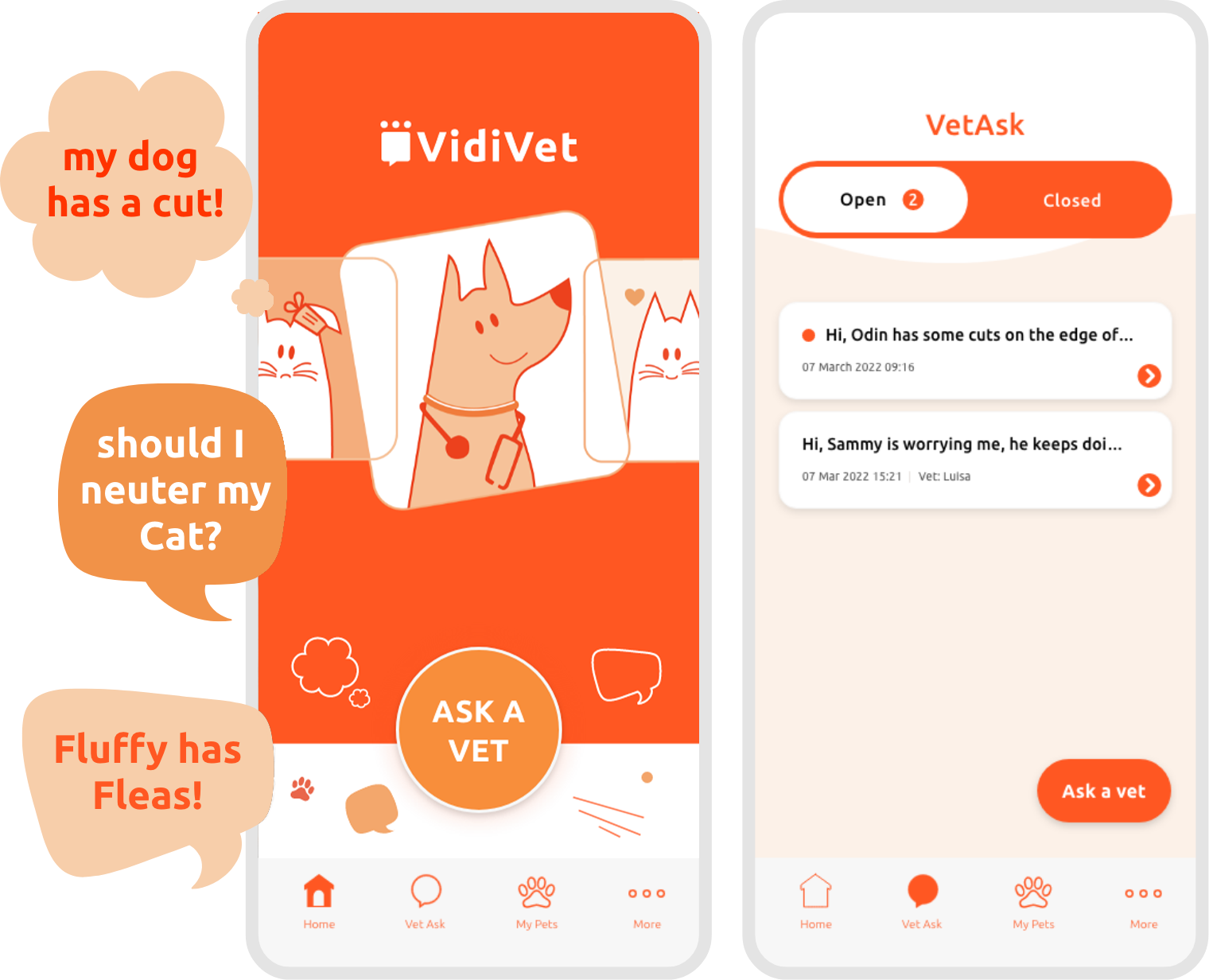 Get a response from a real vet now
Our vets are live and ready to answer any and all questions you have about your pet.
Stop searching Google for an answer, get instant peace of mind from a qualified vet direct to your phone.
Ask any question to our vets 24/7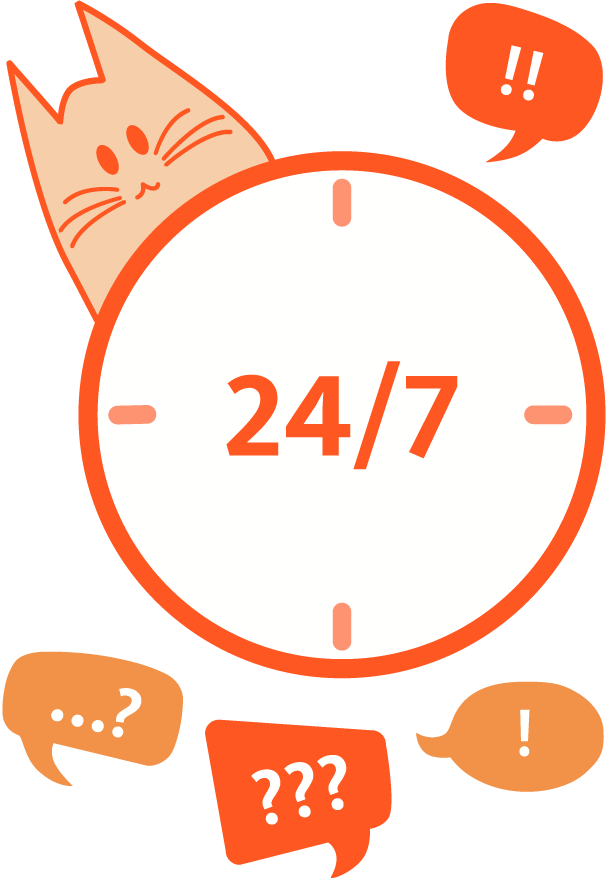 Get a personalised video response from our vets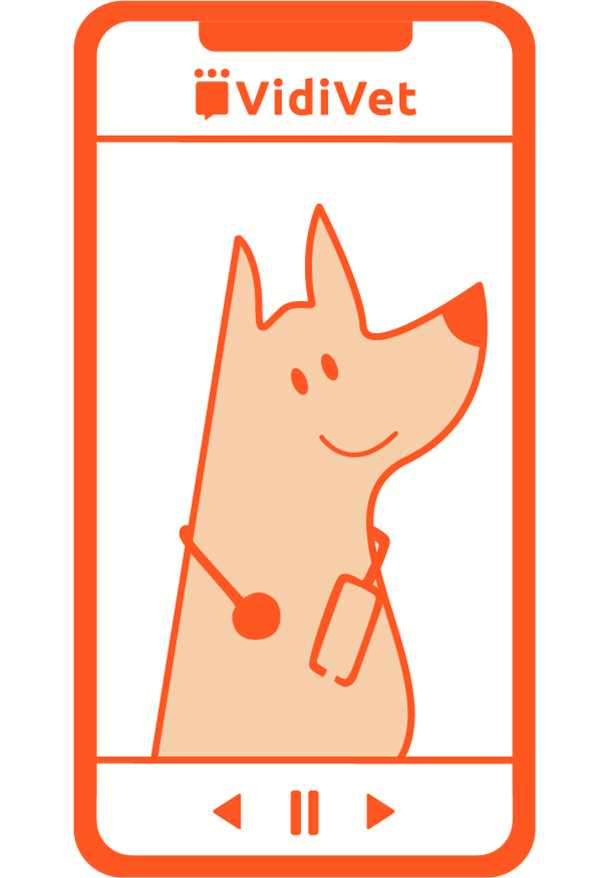 Play and re-play the advice as many times as you need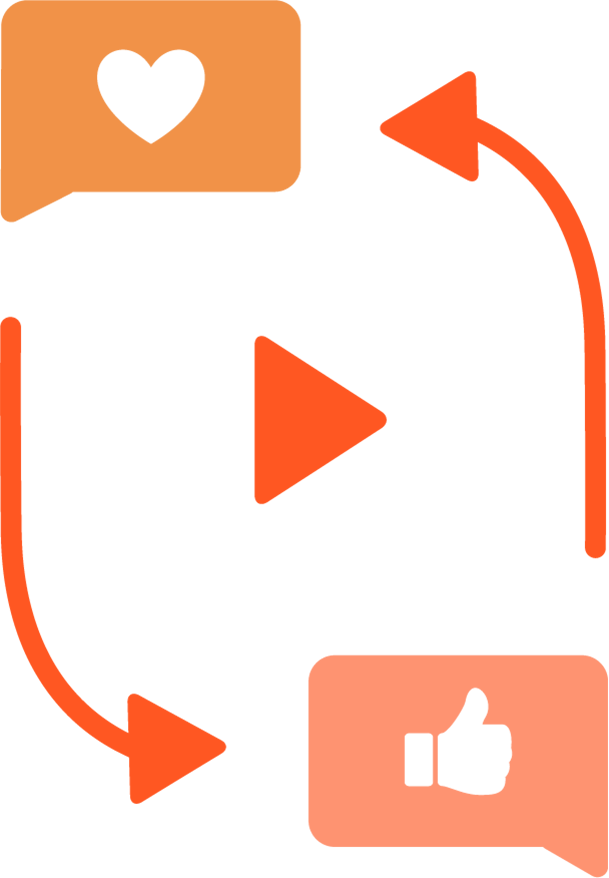 Sign up and tell us all about your pet
Download our app from your App Store
Sign in and ask any pet question
How much does VidiVet cost?
Speak to a real vet
Video answers from a veterinary professional in minutes
£8.99
Monthly subscription
(£107.88 / year)
OR
£91.70
Annual subscription
(15% saving)
What is VidiVet?
​VidiVet delivers veterinary expertise, 24/7, without having to book a consultation. Ask away and receive a personalised video response from our UK-qualified vet team in a matter of moments, all via our VidiVet app. VidiVet is literally like having a vet at your fingertips. Register online and download the VidiVet app via
Google Play
or
Apple Store
to your smartphone.
When would I use VidiVet?
You may have the odd question or twenty about your pet, and like many others, for all different kinds of reasons, you haven't approached your own vet for advice.
Some go to Dr Google, social media groups, blogs or online forums to find answers.
The problem is; an internet search only brings back generic information. You have to read it, figure out what credibility it has, who wrote it, etc., and some 30 minutes later, still decide if it helps you or not.
Social media on the other hand gives you hundreds of different answers…which may not be wrong, but they aren't specific to you, your pet and your circumstances.
VidiVet has been created to help, with all of the speed and convenience of an internet search AND all of the clinical expertise to ensure you only get the best, most appropriate advice. Peace of mind in a matter of moments; you and your pet get nothing but the best.
One of our customers describes:
'it's like having a new best mate who just happens to be a vet'.
Think of VidiVet as the lovechild between Dr Google and NHS111, lovingly created for your pets.
How does VidiVet help pet parents?
When creating VidiVet we had a clear goal: to give anyone with a pet faster access to real vets 24/7. By using VidiVet you get an answer faster than scrolling through online search results and from a real vet rather than 100 strangers on social media.
We help you:
Decide

if

you need to see an in-person vet, if so

When

to go to an in-person vet

Whether there is anything

you can do

at home and

What

to expect at the vets if you have to go.
Because of how we work with our customers, we help you to go into the vets less stressed, more informed and more aware of what may happen.
People often have questions AFTER going to the vet, it's common to think of additional questions you wished you'd asked, so VidiVet is here to answer, as many times as you need.
Is VidiVet a replacement for my vet?
In a word – No.
VidiVet triages your concern, whilst not all need to go to your vets we also know exactly when you do need to go.
VidiVet also helps your vet practice by diverting concerns from going in that can be monitored at home. Your vet practice staff are then available to help those pets in most need rather than having to spend their day answering queries coming in via phone, email, or PetsApp. This results in your vet helping you much more efficiently when you do need to go in.
And we are here to support you 24/7, if your late night concern is urgent then you may have to visit the out-of-hours vet, BUT if it's not and can wait… then you can go see your own vets when they are open, giving you more consistent care, and saving you money.
VidiVet is here to help you, your pets and your vets.
What can I ask VidiVet?
Literally anything about your pet. If it is important to you, then it is important to us!
Some examples of what people ask us about:
Unwell pet
flea/worming advice,
spay/neuter advice,
feeding advice,
behavioural advice,
post-operative care,
or new puppy/kitten advice.
What about out-of-hours, late nights and early mornings?
VidiVet operates 24/7, 365 days a year, so whether you are worried first thing in the morning or at midnight, we are always here to support you no matter how big or small your question about your pet is.
How is VidiVet different from other digital vet services?
It is the first service of its kind in the UK allowing you to ask your question immediately to a vet, not waiting for a consultation, as soon as you think it – you ask it, there and then.
Our vets review your question and send you a personalised video response within a few moments. They can also review past questions you've asked in case there is something relevant mentioned previously, so your care feels more consistent.
Our app stores all of your questions and our vet's answers, so you never have to worry about forgetting what the vet told you again.
We don't charge per pet! A VidiVet membership is for the whole house: so if you have one or five pets, the cost is the same*
* If your access is subsidised by a VidiVet partner, they may only allow you to use VidiVet for one pet.

©VidiVet 2023. All rights reserved