Powered by
✔ Free with all VetBox subscriptions
✔ Get a response from a qualified vet direct to your phone
✔ Available 24/7, 365 days a year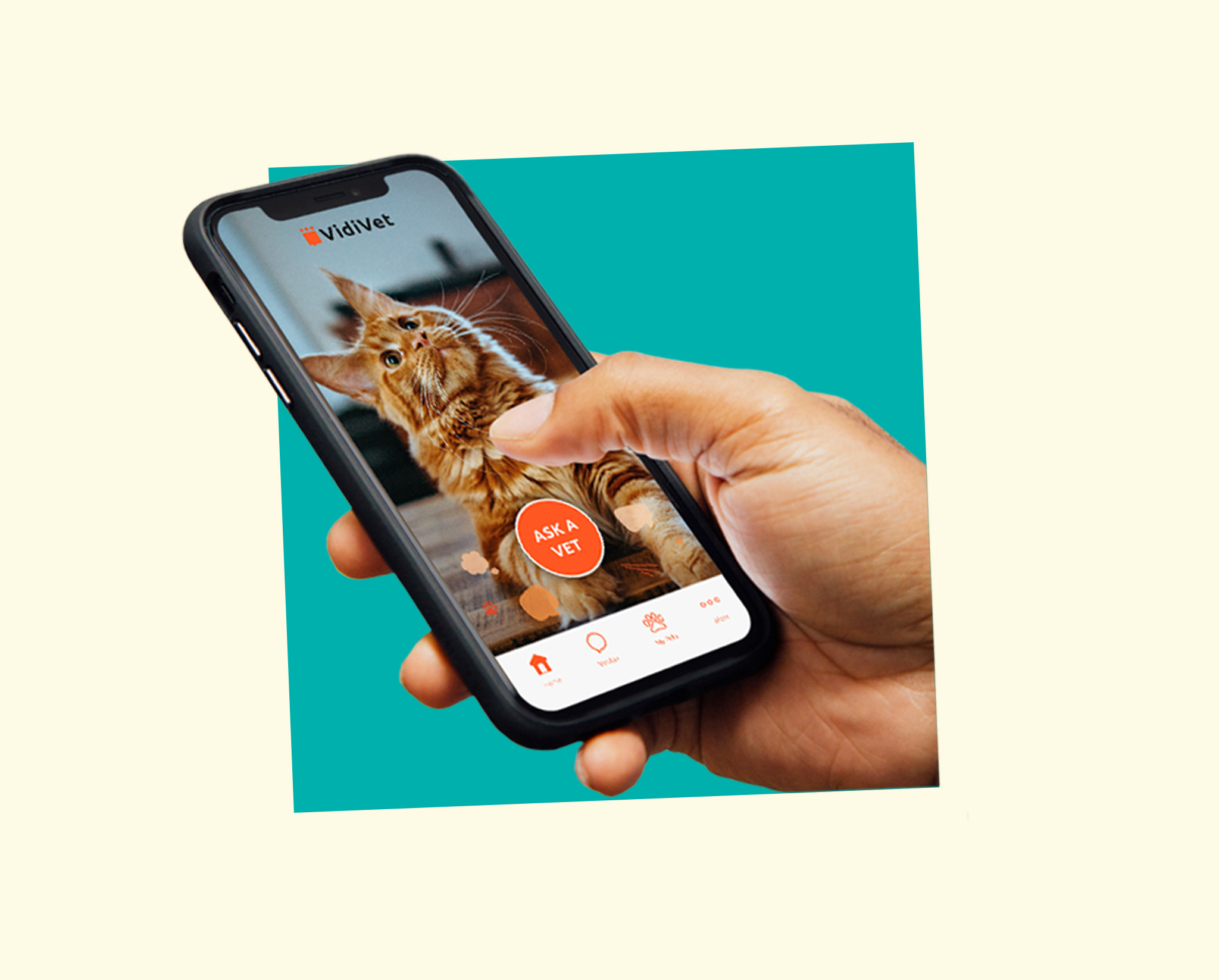 Our App is available to download on the App stores!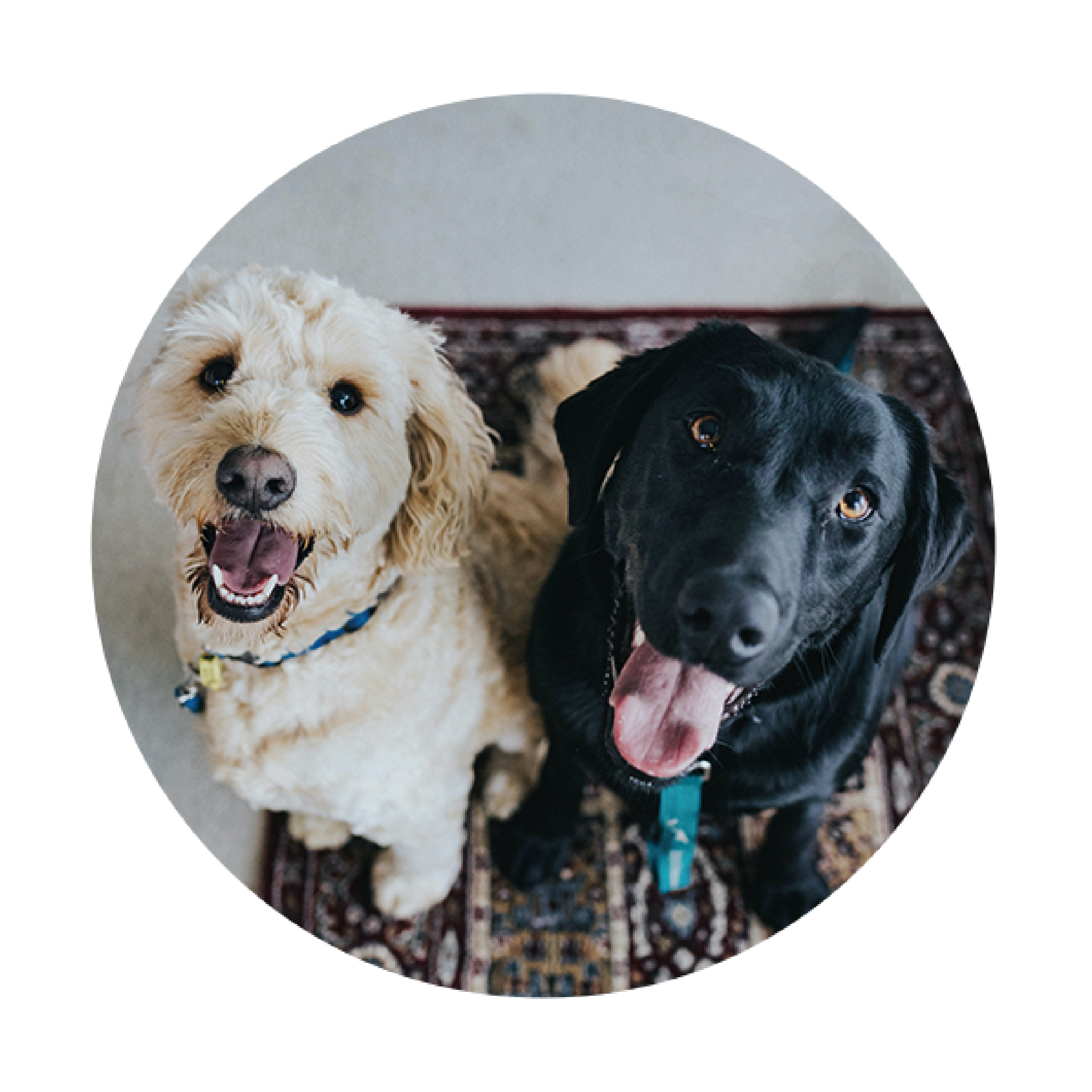 Sign up and tell us about your pet.
We can't wait to hear all about them!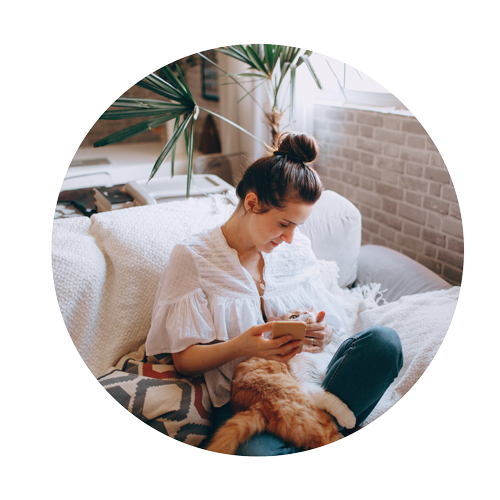 Create a password for your VidiVet account.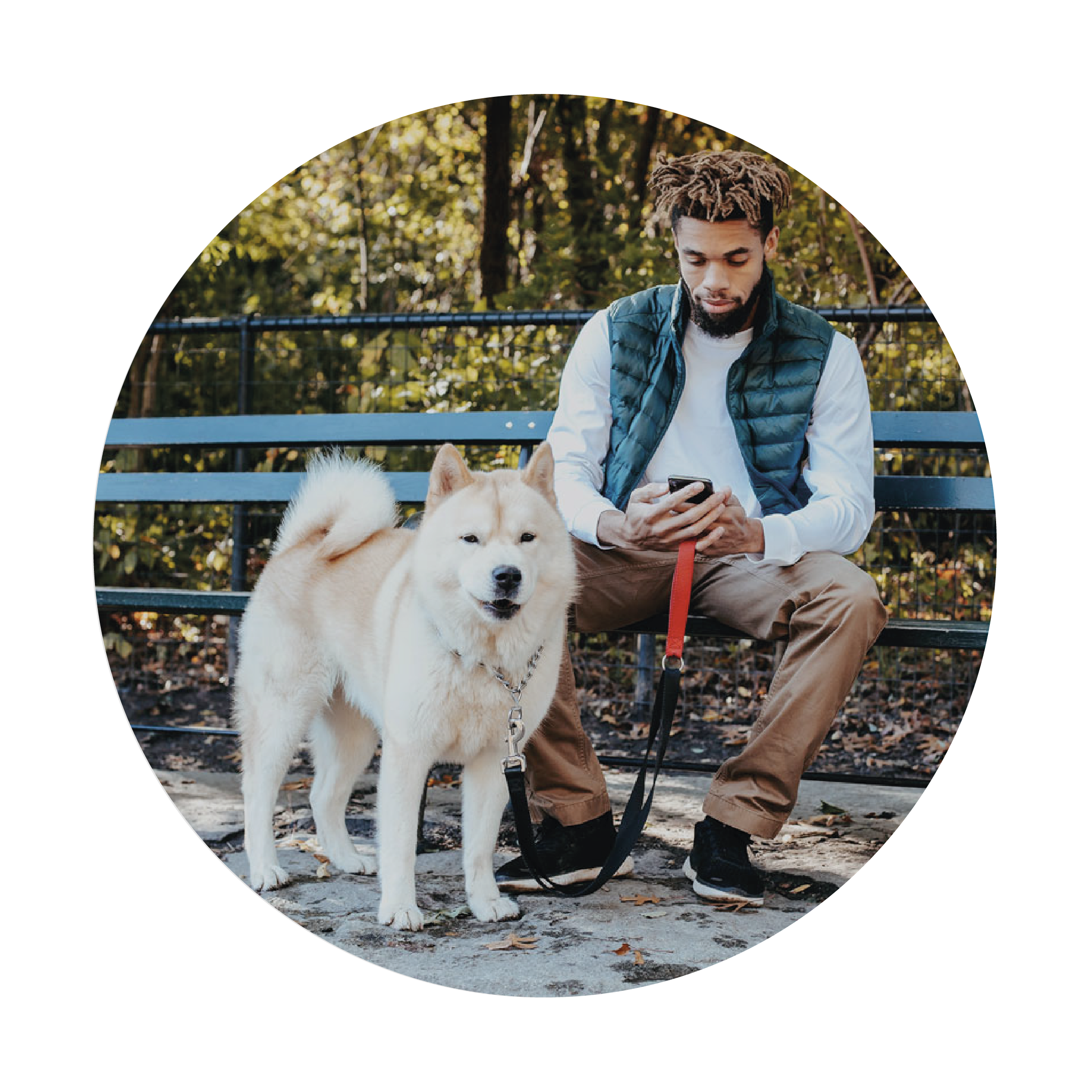 Download the VidiVet app, log in only once, and then ask questions to a real vet 24/7.
Exclusive support for the VetBox community. Help your pet live a long, happy and healthy life with access to free professional advice when you need it.
What is VidiVet?
​VidiVet delivers veterinary expertise, 24/7, without having to book a consultation. Ask away and receive a personalised video response from our UK-qualified vet team in a matter of moments, all via our VidiVet app. VidiVet is literally like having a vet at your fingertips.
When would I use VidiVet?
You may have the odd question or twenty about your pet, and like many others, for all different kinds of reasons, you haven't approached your own vet for advice.
Some go to Dr Google, social media groups, blogs or online forums to find answers.
The problem is; an internet search only brings back generic information. You have to read it, figure out what credibility it has, who wrote it, etc., and some 30 minutes later, still decide if it helps you or not.
Social media on the other hand gives you hundreds of different answers…which may not be wrong, but they aren't specific to you, your pet and your circumstances.
VidiVet has been created to help, with all of the speed and convenience of an internet search AND all of the clinical expertise to ensure you only get the best, most appropriate advice. Peace of mind in a matter of moments; you and your pet get nothing but the best.
One of our customers describes:
'it's like having a new best mate who just happens to be a vet'.
Think of VidiVet as the lovechild between Dr Google and NHS111, lovingly created for your pets.
How does VidiVet help pet parents?
When creating VidiVet we had a clear goal: to give anyone with a pet faster access to real vets 24/7. By using VidiVet you get an answer faster than scrolling through online search results and from a real vet rather than 100 strangers on social media.
We help you:
Decide

if

you need to see an in-person vet, if so

When

to go to an in-person vet

Whether there is anything

you can do

at home and

What

to expect at the vets if you have to go.
Because of how we work with our customers, we help you to go into the vets less stressed, more informed and more aware of what may happen.
People often have questions AFTER going to the vet, it's common to think of additional questions you wished you'd asked, so VidiVet is here to answer, as many times as you need.
Is VidiVet a replacement for my vet?
In a word - No.
VidiVet triages your concern, whilst not all need to go to your vets we also know exactly when you do need to go.
VidiVet also helps your vet practice by diverting concerns from going in that can be monitored at home. Your vet practice staff are then available to help those pets in most need rather than having to spend their day answering queries coming in via phone, email, or PetsApp. This results in your vet helping you much more efficiently when you do need to go in.
And we are here to support you 24/7, if your late night concern is urgent then you may have to visit the out-of-hours vet, BUT if it's not and can wait… then you can go see your own vets when they are open, giving you more consistent care, and saving you money.
VidiVet is here to help you, your pets and your vets.
What can I ask VidiVet?
Literally anything about your pet. If it is important to you, then it is important to us!
Some examples of what people ask us about:
Unwell pet
flea/worming advice,
spay/neuter advice,
feeding advice,
behavioural advice,
post-operative care,
or new puppy/kitten advice.
What about out-of-hours, late nights and early mornings?
VidiVet operates 24/7, 365 days a year, so whether you are worried first thing in the morning or at midnight, we are always here to support you no matter how big or small your question about your pet is.
How is VidiVet different from other digital vet services?
It is the first service of its kind in the UK allowing you to ask your question immediately to a vet, not waiting for a consultation, as soon as you think it - you ask it, there and then.
Our vets review your question and send you a personalised video response within a few moments. They can also review past questions you've asked in case there is something relevant mentioned previously, so your care feels more consistent.
Our app stores all of your questions and our vet's answers, so you never have to worry about forgetting what the vet told you again.
All of your pets are covered! A VidiVet membership is for the whole house: so if you have one or five pets, they are all covered.
What does the vet want to know?
The vets will be able to give you the best answer if you give them as much information as you can. Consider the following when asking your question:
When did this first start?
Is it getting worse?
Are there any other symptoms?
Is your pet acting like its normal self?
Has anything happened recently that you think triggered this?
Has this same thing happened before?
If you are able to send us a short video to show us what you are describing, even better! Sometimes we will come back to you and ask you to show us things by video, so do have a look at the advice for sending good quality videos as this will really help us to help you!
Is it always the same vet sending me answers?
Our top priority at Vidivet is to look after you and your pets. To do that, we make sure we also look after our vets!
Our vets are available to answer your questions 24/7, but work nice short shifts so they don't burn out. To ensure continuity of care our vets have full access to every single interaction you have had with us and are totally familiar with your case before sending you an answer.
So a lucky few of you will meet multiple members of the VidiVet team over the app….all of whom are fully awesome!
What if VidiVet can't tell what is going on?
At VidiVet we pride ourselves on our ability to help pet parents and give them peace of mind. If we aren't sure, then we will always air on the side of caution and recommend taking your pet to your vet for a good hands on examination. In those circumstances we help you go into your vets less stressed, more informed and more aware of what may happen.
This results in your vet helping you much more efficiently.
What is the best type of video to send the vet?
You can check out this example on Instagram or follow the instructions below:
Start by selecting the 'Video' answer type, and 'flip' to your rear-facing camera for greater control and visibility as you record.
Your video should be about 30 seconds in length
Start by standing back with the full view of your pet in view, TIP: use a treat to help your pet stay still.
Slowly move forward and focus on the area that you would like us to see in more detail...
Feel free to speak over the video and give us as much information about what you are showing us as possible. e.g.

How long has it been going on for?
Is it getting worse?
Are there any other symptoms?
Is your pet acting like their normal self?
Has anything happened recently that you think triggered this?
Who can use VidiVet?
You need to be 18 or older, live in the UK and have a valid email address to use VidiVet.
VidiVet is for every pet parent: whether you have a guinea pig or a Great Dane, our vets have expertise to help you no matter what your question is.
Can I use VidiVet in an emergency?
The VidiVet app should not be used if your pet is in distress, or in life-threatening situations. If you feel that this is an emergency, or your pet suddenly deteriorates, please contact your vet practice or out of hours provider straight away.
Can I view the questions I've asked in the past?
Yes. If you select the VetAsk icon (from the bottom menu in your App), you can view all open questions (those you have asked in the last 48 hours) and closed questions (those that have gone past 48 hours without any further interactions from yourself or a VidiVet vet)..
Can I ask about multiple pets?
Yes*. Whether you have 1 or 10 pets, you can ask a question about them all. VidiVet would also encourage you to create a pet profiles for each of your pets within the app. To do this you will see the 'My Pets' icon at the bottom. When you select this, you can add new or edit existing profiles.
*Depending on how you access VidiVet, some partners may only allow you to add a single pet.
Can I receive notifications of vet replies?
Yes. Go to your device specific app settings and turn on VidiVet notifications there.
Are VidiVet vets qualified?
Yes. All our vets are Royal College of Veterinary Surgeons (RCVS) registered and a minimum of 5 years qualified to ensure we are operating at the highest level.
Who do I contact if I have any technical problems using VidiVet?
If you are having any problems accessing or using the VidiVet app, please email us at
support@vidivet.com
. Our support team is on hand Monday - Friday 9am-5pm GMT, and we will respond to your problem within 48 hours.
What about my data?
Your data is secure! We NEVER share data outside the VidiVet community.
If your access to VidiVet is subsidised by your vet practice, then we do share some information with them. This is so important, ensuring continuity and saving you time if our vets do suggest that you need to take your pet to your vet practice.
You can read our privacy policy in more detail.
Can VidiVet prescribe?
No. Prescribing medications is an act of veterinary medicine, so to prescribe medications,
a vet needs to have seen your pet in person
. This is to comply with the Royal College of Veterinary Surgeons (RCVS) Code of Professional Conduct for Veterinary Surgeons.
We aren't here to take the place of your vet when it comes to prescribing. Therefore, if one of our vets believes your pet may need some medication, they will always advise your pet to go have a hands-on examination first by your own vet who will also review your clinical records to make sure any prescribed medications are safe.
How do I sign up to VidiVet?
You can sign up using the unique link provided to you by VetBox, and it takes around 30 seconds. If you haven't yet received your link, log in to your VetBox account dashboard or contact support@vetbox.com. We don't need much information, just confirmation of the essentials; name, email and number to enable us to communicate with you.
Is the membership per pet?
VidiVet covers all your pets*, whether you have 1 or 10 it doesn't matter, the price you see is the price you pay. We know that access to vets can be expensive, especially when you have several animals.
* If your access is subsidised by a VidiVet partner, they may only allow you to use VidiVet for one pet.
What if I want to cancel?
Obviously, we don't want you to, and that is why we deliver such an awesome service to all of our members. But, if you decide VidiVet isn't for you, then all you have to do is let us know by emailing support@vidivet.com
VidiVet does not have access to your VetBox subscription details, therefore cancelling VidiVet does make any changes to your VetBox subscription. For further information about this, please contact support@vetbox.com
How do I change my registered email?
Email us at support@vidivet.com from the email address your account is registered with, and we will update your account email. If you no longer have access to your registered email, please provide further information to help validate you; such as the date and time of your last question to VidiVet, Pet profile details, postcode or phone number.
VidiVet does not have access to your VetBox account details, therefore changing your registered email with VidiVet does not make any changes to your VetBox account. Please also contact support@vetbox.com to notify VetBox directly.
How do I change my registered name?
Email support@vidivet.com with your change request, and we will update your account for you.
VidiVet does not have access to your VetBox account details, therefore changing your registered email with VidiVet does not make any changes to your VetBox account. Please also contact support@vetbox.com to notify VetBox directly. 
Do I need a smartphone to use VidiVet?
The VidiVet app is available on smartphones, tablets and some of the latest Apple computers only. Your device will need to have a webcam and a microphone. You'll also need to ensure that you have a good internet or data connection. The VidiVet app may not work on older devices nor some of the latest Huawei devices.
Minimum requirements are: For iOS: compatible with Apple iOS 10.0 or later. Compatible with iPhone, iPad and iPod Touch. For Android: compatible with Android 6.0 or later.
VidiVet is unable to provide the app and the service to people on Huawei phones, as the service is limited to the Apple App store and Google Play Store only.
Can I access VidiVet if I am not in the UK?
Yes. Once you have the VidiVet app installed on your smartphone if you travel abroad and have a pet question you can ask away. Our vets are on hand 24/7, so regardless of your time zone, we can respond in moments.
How do I unsubscribe from VidiVet emails?
Emails from our vets
- Our vets may send you emails regarding your questions in the unlikely event of a technical problem. These emails are sent to help you care for your pet.
Marketing emails - You can find the unsubscribe link at the bottom of any of our marketing emails If you no longer wish to receive them from VidiVet. Or you can email us at support@vidivet.com and ask for us to help you unsubscribe.
What do I do if I forget or need to change my VidiVet password?
When you open the app and tap Log in, you can tap the link 'Don't remember your password?' (it's under the password field). You will then be emailed a link to create a new password.
The app isn't working as expected?
If you ever need any support, simply email your query to
support@vidivet.com
, and one of our team will be happy to assist. The support team is available Mon-Friday 9am-5:30pm GMT. We will respond to you as soon as possible, but all queries will have a response within 48 hours.